Manx Museum 'taken over' by children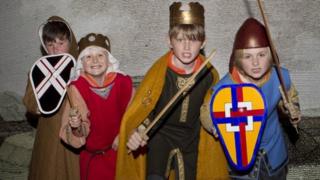 Children in the Isle of Man will "take over" the running of the Manx Museum in Douglas on Friday.
Twenty pupils will fill roles including working with the artefacts and leading guided tours of the Manx National Heritage (MNH) site.
Katie King, of MNH, said: "We're really looking forward to welcoming them. I am sure they will bring lots of ideas."
Museums and heritage sites across the UK will be taken over by children as part of the Takeover Museum Day.
The initiative is organised by independent charity Kids in Museums, which aims to help place children and teenagers at the heart of British museums.
The children from St Thomas' Church of England Primary School in Douglas have spent eight weeks training.