Douglas promenade in beach clean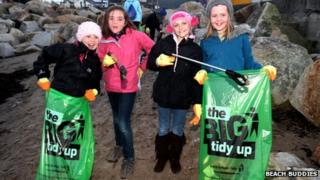 A clean-up squad of volunteers organised by a beach cleaning group in the Isle of Man will head to Douglas Bay on Sunday.
The event is part of an ongoing, island-wide campaign by Beach Buddies.
Organiser Bill Dale was motivated to start the scheme because of the "huge problem of beach litter".
He added: "When Beach Buddies leaves an area we leave it immaculate, but sadly when you come back two weeks later you are back to square one."
Last weekend 37 volunteers from the north of the island carried out a beach clean at Ramsey North beach collecting 18 bags of rubbish.
So far more than 200 bags of rubbish have been collected in eight weeks at different areas of the Manx coastline.
In recent months, leading wildlife experts have called for people to be more careful with their litter after a basking shark was filmed with plastic around its nose and a grey seal was photographed with plastic around its throat near Kitterland.
Volunteers are asked to meet opposite the Palace Hotel at 10:30 GMT on Sunday - litterpickers, gloves and bin bags are provided.