David Knight 'honoured' to feature on Manx 50p coin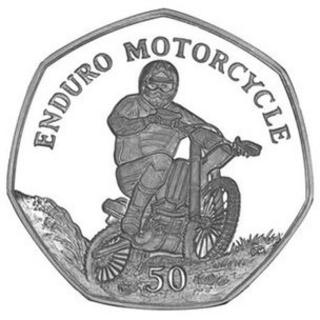 Four-time enduro world champion David Knight has said he is "honoured" to have his sporting achievements recognised on an Isle of Man 50p coin.
The 34-year-old claimed a record breaking 10th British title this year and finished fourth in the Enduro World Championships, despite injury.
Mr Knight said: "I'm very proud to be on a Manx coin and have my achievements recognised. It's a big honour."
Mr Knight received an MBE last year for services to motorsport.
He said: "I was told I was getting my own £500 note - but I am happy with the 50p.
"I will be carrying a few of these coins in my pocket to the rounds next year in the hope they bring me luck."
'Fantastic ambassador'
The coin shows Mr Knight on a KTM enduro machine.
The objective of his sport is to arrive at different check points at a designated time, over a variety of terrain.
Dot Tilbury, of the Philatelic Bureau, said: "David's achievements are remarkable. He is a fantastic ambassador for the Isle of Man.
"Maybe his achievements have been overshadowed by Mark Cavendish but they shouldn't be. He finished fourth in the world this year despite his injuries, he is like the bionic man.
"We honour all our world champions and we are delighted to issue this coin."
Mr Knight is targeting a fifth world title with his new Honda team in 2013.
He said: "I've had a tough couple of years through injury. Last year I had hip surgery and I have had a few problems but I still finished fourth in the world.
"Next year I want my world title back."
The 50p coin is legal tender and will go into circulation this week.