Salvation Army launch Christmas present appeal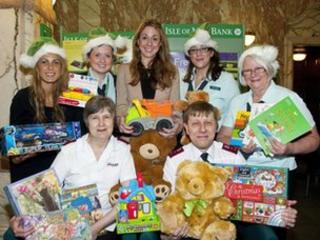 People in the Isle of Man have been asked to contribute to an appeal to ensure every child on the island receives a Christmas present.
The Salvation Army's Christmas toy appeal was first launched in 2004, to help those struggling financially.
Capt Carolyn Clampton said: "The appeal can relieve some of these tensions and remind people of the real meaning of Christmas."
Last year more than 1,000 toys, gifts, games and vouchers were donated.
Capt Clampton said: "Christmas is a time of celebration but it can also be a time of stress and frustration.
"It is a season which highlights the division between those in our society who have enough to live on and those for whom life is a continual struggle.
"The success of the appeal over the years is a real tribute to the generosity of the Manx public."
People are being asked to consider buying one extra Christmas present and to leave it, unwrapped, at any branch of the Isle of Man Bank, where it will be collected by the Salvation Army.