Mannifest music festival will not return in 2013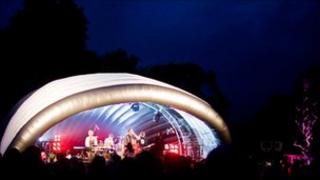 The Isle of Man's largest music festival Mannifest will not be held in 2013, organisers have announced.
This year the festival, held at Glenlough, attracted thousands of people to see acts including Reef and Craig Charles.
A spokeswoman said: "We thank everyone for the support and great times over the past three years. We hope to return full of new ideas for 2014."
The event was first held at the grounds of the nunnery in Douglas in 2009.
'Weather was appalling'
The spokeswoman continued: "We have had a cracking three years at Glenlough farm but we have decided after this year's waterlogged fields, it's time for us to have a well earned rest.
"So we're sorry to announce there will be no Mannifest in 2013."
The owner of Glenlough, Peter Quayle, said: "We have had three successful years with Mannifest at the campsite. This year's weather was appalling but no-one could do anything about that.
"It took us a while to recover to be honest. We haven't heard from anyone that it isn't on next year. Whatever happens the campsite will carry on regardless."
Described as a "home grown" event, Mannifest gives local bands a chance to perform with some of the finest new talent from the UK.