Isle of Man regret over Sellafield clean-up delays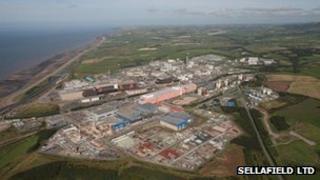 The Isle of Man government has expressed regret about a seven-year-delay to plans to clean-up the Sellafield nuclear plant in Cumbria.
A decommissioning process was due to be completed by 2029, but owners, Operator Sellafield LTD, now estimate 2036.
About 240 of Sellafield's 1,400 buildings are nuclear facilities and so far 55 have been decommissioned.
Government scientist Dr Paul McKenna said: "The delay is regrettable but our priority is that it is done safely."
He added: "At present the facilities contain hazardous, radioactive materials- they are also chemically hazardous and if the decommissioning was mishandled, there could be a chemical explosion which would would result in the contamination of both the site and the environment.
"Technically, it is an incredibly complex operation which requires an advanced solution, now we don't know if the delays are related to expenditure but this is of no concern to us- we would wish to see the expenditure of whatever sum of money is required, to make the facilities safe at the earliest possible time."
Sellafield is the UK's largest and most hazardous nuclear site, storing enough high and intermediate level radioactive waste to fill 27 Olympic-sized swimming pools.
'Spiralling' costs
A recent report into Sellafield by a public watchdog said there was an "intolerable risk" posed by hazardous waste stored in run-down buildings at the nuclear plant.
The National Audit Office (NAO) also said that for 50 years, the operators of the Cumbria installation failed to develop a long-term plan for waste and the costs of plant-decommissioning has spiralled out of control.
Operator Sellafield Ltd said it welcomed the report's findings and was "making improvements".
But Dr McKenna said, from his perspective, nothing new was highlighted in the NAO report.
"Much of the report deals with long standing problems at the plant- the new management is largely American and French at the senior levels," he continued.
"They have told us they intend to bring in their own experts to provide additional expertise."
The Isle of Man government supports the complete closure of the Sellafield nuclear plant.