Victoria Road prison demolition begins in Isle of Man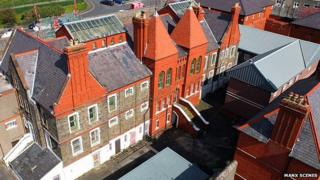 Work to demolish a Victorian prison in the Isle of Man has begun.
The prison was decommissioned in 2008 and prisoners were transferred to a new £41.7m jail in Jurby.
First opened in 1891, the Victoria Road site in Douglas housed criminals for more than 100 years, replacing the 18th Century Castle Rushen.
Home Affairs minister Juan Watterson, said the prison was "a reminder of a rather grim history in the Isle of Man".
It is anticipated that demolition on the two-acre site will be completed by March next year. It is not yet known what will replace the building.
'Sheep stealing'
In 1891, there were 16 men and 4 women in custody for crimes including wife or child neglect, drunkenness, larceny, sheep stealing and bodily harm.
There had been calls for the site to be kept as a listed building from many including the island's Victorian society.
Norman Douglas Quillian worked as a prison officer at Victoria Road from 1967 to 1986.
He said: "The building has so much history. I, for one, would have liked to see it kept as a museum or a facility to help the homeless."
In 2001 a prison report said Victoria Road was not abiding to international human rights laws because prisoners had to slop out and eat meals alongside sanitary buckets.
'Slopping out'
Mr Watterson, MHK said: "It represents a time where we weren't living up to our international obligations, with two people to a cell and you still had slopping out. I think that is a good enough reason to clear the site."
Project manager, Trevor Danning, said it is one of the "more unusual projects" he has worked on.
He said: "It is an unusual place to be but it will be a straight forward demolition. Due to the high walls their will be minimal noise for local residents and we are working with them to ensure they are not affected by the work.
Mr Danning said that his team are securing the site and removing salvageable materials before demolition starts in a weeks time.
"We will be salvaging as many materials from the building as possible, nothing will be scrapped unnecessarily."
According the Isle of Man government the demolition will cost around £71,000 and take four months to complete.