Museum appeal over WWI women at war exhibition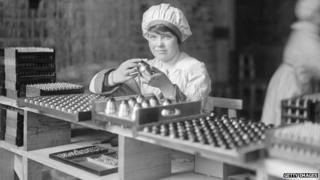 Historians are appealing to Isle of Man residents to "check their attics" ahead of a major exhibition in 2014.
Manx National Heritage is hoping to find diaries, letters or photographs which could help highlight the role island women played in World War I.
The exhibition will mark the 100th anniversary of the outbreak of the war.
Social history curator Matthew Richardson said: "A shiver goes down my spine when someone brings in a diary which they have almost thrown away."
He added: "I do fear that a lot of very important historical records have gone into the dust bin in years gone by because people maybe didn't realise the significance of them to the Manx Museum.
"The golden nuggets for us are when you find something which is actually written in the words of the person from that time - we want to know how ordinary people were affected by war and often their letters and diaries are the best way of tapping into that."
A number of interesting stories about Manx women during the time have already emerged, and some will be the topic of a presentation at the museum on 9 November.
Mr Richardson said they highlighted how much women were prepared to get involved in the war effort.
"At the start of the war, the female role was very much a supporting one, their role was to encourage men to enlist but as the war progressed, it became apparent that women would have to get more actively involved," he said.
"Commentators at the time said how marvellous it was that women had risen to this challenge. They cleaned locomotives, they worked in shell factories - many heavy and dangerous jobs which had previously only been open to men."
According to museum research, One Manx woman, Mary Faragher from Douglas, worked as a crane driver at Vickers Naval Armaments factory in Barrow in Furness and another worked at Coventry Ordnance Works filling shells with TNT.
And one unusual Manx venue, according to Mr Richardson, provided local women with some interesting work.
"The Palace Ballroom in Douglas was used by [engineering firm] Vickers to build airships because it was one of the few buildings big enough to do this," he said.
"It was the largest covered ballroom in Europe in its time and they actually built the air ships in Douglas using female labour, that fact alone could host hundreds of different local stories."
The presentation on the untold stories of Manx women in WWI will be held at 11:00 GMT on 9 November at the Manx Museum lecture room.