Toppled lorry closes Isle of Man's main shopping street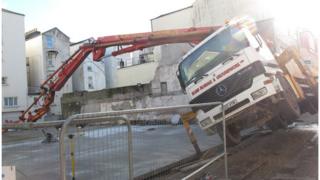 Part of the Isle of Man's main shopping street has been closed to the public after a lorry pumping concrete toppled over.
Around 12 people were working on the site of the former Leisure arcade at the time of the accident at around 10:00 BST but no-one was badly injured.
One labourer said: "I saw my colleague flying through the air after the hose exploded. There was a loud bang."
The site is currently being developed into a retail outlet.
Head of health safety for the Department of Infrastructure, Bernard Warden, said: "Work to start the clearance is under way.
"Members of the public were not at risk due to the location of the crane in relation to the site but the workforce could easily have been hurt.
"It could have been a lot worse."