Children In Need: 'Living with the loss of my sister'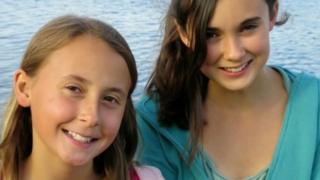 Six years ago Lizzy Power's world was shattered when her sister lost her life to a rare disease at the age of 14.
She was 11 when her older sister Eleanor lost her battle with Wegener's granulomatosis in 2007.
"Sometimes I felt really angry and sometimes I felt really sad", she said.
Lizzy was helped through her grief by a bereavement charity which is part-funded by Children In Need.
"I was really vulnerable at the time and I had lots of emotions inside me. The support I received was a massive help," she said.
Her family had been on holiday in Keswick when Eleanor started to suffer from painful swollen joints.
The family returned to their home on the Isle of Man immediately and she was referred to Alder Hey Children's hospital in Liverpool, where a specialist diagnosed the rare disease.
At the time only one other patient in the North West had the condition.
'Big hole inside'
Over the next six months the disease spread and Eleanor died in March 2007.
Lizzy said: "Now when I think about Eleanor there is still a big hole inside me, but at least I can think about the happy times we spent together and all the fun we had.
"She loved drawing and writing. She was very creative and much more mischievous than me. She was a great big sister."
Shortly after her death the Isle of Man's Department of Health put the family in touch with Cruse Bereavement Care.
The charity is just one of three in the Isle of Man to receive help from last year's Children in Need appeal.
Lizzy said: "I could talk to my mum and dad but I just didn't want to see them upset, so to have someone who would listen to me was incredibly important.
"It was nice to have Gill. She didn't judge me. She would always listen and offer good advice."
Gill Skinner is a councillor for the charity. She said: "When I first see them they think they are the only person going through it.
"When they find out that they are not the only one, but that there are many others having a similar experiences, it really makes a big difference."
She added: "We are a low key charity however I feel we are a very important one.
"Not everyone wants one-to-one counselling so the funding helps us to offer a social group where people can learn from each others experiences."
'Different outlook'
Lizzy said: "If there wasn't Gill or Cruse then there would be a lot of people out there who wouldn't know what to do.
"I think they might feel a bit lonely and I think that if my sister hadn't died then I might have a different outlook on life but now that it has happened to me I feel like I would like to help people.
"I would like to help them to do what they want to do and to get their life back on track. I don't think I would have felt like that if this hadn't happened to me."
Lizzy is now studying her A-levels and working towards a mentor qualification, through the charity. She has recently applied to study occupational therapy at university in England next year.
Her father, Ged added: "We always knew she was in safe hands. It has been a very difficult time for the family but the money Children In Need gives to this charity is doing so much to help. We can't thank them enough."
Last year's appeal raised more than £20m and helped over 1,000 charities across the British Isles.
This year's appeal will be held on 16 November and every penny from the money raised will go towards helping disadvantaged children and young people.