Isle of Man airport's passenger figures drop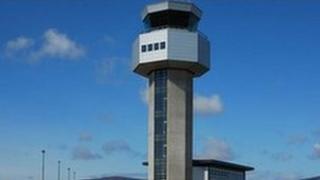 Isle of Man airport passenger figures dropped "sharply" in September, according to the Manx government.
The number of people travelling through Ronaldsway airport fell by 7.5%, a drop of 4,800 from September 2011.
A government spokesman said a total of 59,500 people travelled through the terminal this September, the lowest number since 1996.
Passengers from Liverpool fell by 11.5%, Birmingham by 16.6%, Edinburgh by 11% and Luton by more than 25%.
Commonwealth Games
Only the Bristol service, which showed a slight increase of 0.5%, and the British Airways London City route, saw increased figures.
Airport director Anne Reynolds said she had expected a slight fall in business due to the unusual peak for last year's Commonwealth Games, but the figures were worse than anticipated.
"I have looked at how UK and Channel Islands' airports performed last month and the provisional UK CAA statistics showed that two thirds of them also saw decreases," she continued.
"Moreover some significant airports, such as Belfast City, Liverpool and East Midlands had decreases greater than the Isle of Man.
"In addition, I have looked at how our traffic decrease is spread throughout the routes and regions we serve and it is clear that the slump in passengers is pretty well across the board."