Scallop fishing ban for southern Isle of Man bay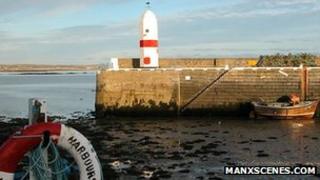 A scallop fishing ban has been put in place off the south coast of the Isle of Man.
The area under the spotlight is Baie ny Carrickey, near Port St Mary.
The move comes after a committee was formed last August to find ways of protecting marine life without damaging the Manx fishing industry.
Fisheries minister Phil Gawne said: "Commercial fishing and conservation interests can work together successfully to the benefit of all."
He added: "This closure should be of benefit to all marine stakeholders."
Scientists predict the closure will allow the eco-system to recover and eventually enrich the surrounding area for the benefit of the fishing industry.
Sugar Loaf
Baie ny Carrickey is the sixth area around the island to have the ban. The others being Port Erin, Douglas, Laxey, Niarbyl and Ramsey Marine Nature Reserve.
The new bylaw, which comes in to effect on 1 November also prohibits the use of mobile fishing gear in the bay.
A government spokesman said it protects 11km2 (1100 hectares) of seabed, including kelp forests, rocky reef habitat and limestone ledges encrusted in marine life.
The site includes the seabed off Kallow Point, Perwick Bay and the Sugar Loaf.
More than 3% of the Manx seabed is now protected from trawling and dredging.