French TT tourist's death a 'tragic accident'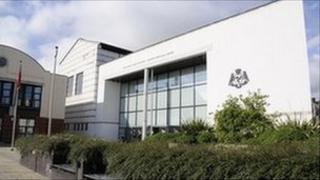 A French motorcyclist killed on a visit to the Isle of Man during TT week died from a massive impact to the chest, an inquest has heard.
Jean Jacques Gerard Leroux, 50, died in a collision on the A1 Douglas to Peel Road on 4 June.
Douglas Court House heard Mr Leroux would have died almost instantly after suffering a "massive blunt force trauma".
Coroner John Needham recorded a verdict of accidental death.
Mr Leroux, a labourer from Fresnes, in France, had been visiting the Isle of Man for the TT races, with a motorbike club called The 59 Club.
He had been travelling along the A1 on his Triumph motorcycle when he collided with a stationary Peugeot 206 car.
The court heard how the impact had thrown Mr Leroux under a Lexus 4x4 vehicle travelling in the opposite direction, dragging him for about 28 metres.
Mr Needham read out a series of statements, including one from the driver of the Lexus vehicle.
"I heard a horrible thump but there was nothing I could do."
Another statement from Matthew Wilkinson, who had been waiting to watch the TT races, said: "I heard screeching tyres and a bang and then I saw the motorcyclist sliding down the road and underneath the car".
The court also heard a statement from Robert Goldsmith, who had been driving behind the Lexus.
It said: "He couldn't avoid the red car, he couldn't see it.
Coroner Needham said it had been a "tragic accident". He said: "Mr Leroux's family could take some crumbs of comfort from the fact that he would have died almost instantly and would not have been aware of his injuries."
The court heard how a number of travelling marshals, a qualified paramedic and two Austrian doctors, over for the TT, had tried to help Mr Leroux at the scene, but that there were "no signs of life".