Isle of Man barn damaged by fire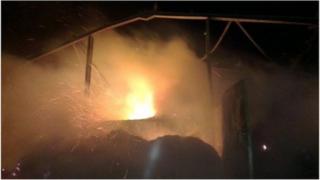 Fire crews in the Isle of Man fought a barn fire for more than six hours to prevent it spreading to a nearby plantation.
Firemen from Kirk Michael, Ramsey and Douglas tackled the blaze on the Druidale Road, which started at about 19:15 GMT on Tuesday.
Station officer John Kelly said: "No-one was injured and the fire was brought to a close around 01:30 GMT."
Police and fire investigators are now establishing the cause.
Mr Kelly said: "The fire crews battled to prevent the fire spreading to protect a nearby plantation and livestock."
Water had to be ferried to the scene in a relay of fire vehicles until the arrival of a 4,000 litre water carrier from Douglas.