Isle of Man dementia group gains charity status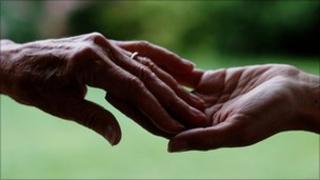 An Isle of Man initiative to help dementia sufferers has been officially launched as a registered charity.
Manx Decaf runs monthly cafes where dementia sufferers, relatives and carers, can meet and receive support from trained volunteers.
Leonard Singer MHK, said: "Since their introduction, the cafes have been a resounding success."
Dementia is used to describe a loss of cognitive ability associated by most people with memory impairment.
The first cafe was set up in 2006, and since then two more have been introduced to offer sufferers and carers an opportunity to talk to others in a similar position in a relaxed environment.
They also provide an opportunity for those with dementia or memory problems to be referred to clinics and other services within the department of health.
Doreen started using the service when she was caring for her husband of 52 years, who suffered from Alzheimers.
'Didn't know who I was'
Though he died five years ago she has continued to attend the cafes.
"People don't realise what goes on behind closed doors. They think you're alright, but you're not.
"We were married for more than 52 years when he died so it was a long time. He didn't know who I was at the end. He used to ask me to marry him and it was very difficult.
"I wouldn't stop coming to the group because I have met some lovely friends and it has made an awful difference to me."
Mr Singer said: "It is a great step forward that Manx Decaf has been successful in becoming a charity, enabling it to develop further."
Manx DeCaf sessions are run at Whispers Bar in Douglas, the function room at Ramsey Town Hall and the Cherry Orchard Hotel in Port Erin.
Volunteers, including trained professionals in memory problems, are able to offer guidance and support to those with dementia, as well as their carers and their relatives.