Isle of Man government proposes a ban on smoking in cars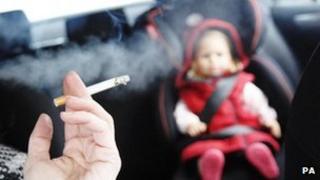 The Isle of Man government has outlined new measures aimed at protecting young people from the harmful effects of smoking.
The Department of Health is seeking public opinion on a range of issues including banning smoking in vehicles carrying children under the age of 16.
Health minister David Anderson said: "Views could shape future policy."
The British Medical Association has previously said all smoking in cars should be banned.
Currently, the practice is legal throughout the UK.
Smoking was banned in the Isle of Man's pubs and clubs in 2008.
'Toxic limit'
But Dr Paul Emerson, a consultant in public health medicine, believes further action needs to be taken.
"Only last week, new research on the dangers of smoking in cars - which can break the toxic limit even with windows fully open - received widespread national media attention.
"It is a very important issue", he added.
The study, published in Tobacco Control journal, analysed air quality data during a number of car journeys in which the driver smoked.
It concluded that "second-hand smoke concentrations in cars where smoking takes place are likely to be harmful to health under most ventilation conditions."
Researchers added that children were particularly susceptible because they have "faster breathing rates, a less developed immune system and are largely unable to escape or avoid exposure to second-hand smoke".
The government has also proposed limiting the exposure of young people to tobacco products in shops and pubs.
Dr Paul Emerson, said: "Current legislation in the Isle of Man, whilst effective at creating smoke-free working environments, is less focused on the visibility and availability of tobacco products in public areas, such as vending machines in pubs and shelving in newsagents.
"Despite our efforts, it is clearly still too easy for young people to obtain cigarettes and tobacco."
Government figures suggest that around one in five people on the island smokes regularly.
The Department of Health's questionnaire can be completed online. The consultation will run until the 7 December.