Manx Grand Prix Festival gets new identity for 2013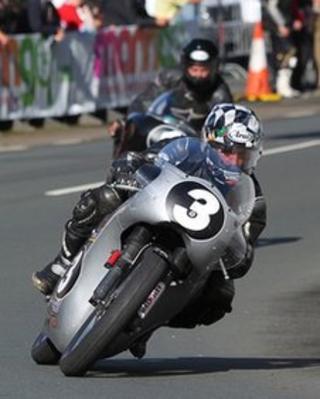 The Manx Grand Prix Festival will be replaced by a new event called The Isle of Man Festival of Motorcycling in 2013, the government has confirmed.
The Department of Economic Development said the festival would run from 17 August to 1 September and would feature the newly developed Classic TT races.
Geoff Corkish MHK said: "It will capitalise on our position in the international motorcycling community."
The festival will also include the 90th running of the Manx Grand Prix races.
The annual races, held around the Isle of Man TT course, will be one part of the event, which will also include motorcycle themed events and entertainment.
Both the Manx Grand Prix races and the newly introduced Classic TT races will be run by the Manx Motorcyling Club (MMC).
'Iconic Manx Grand Prix'
MMC spokesman, Phil Edge said: "The 2013 Manx Grand Prix will be an integral part of the Isle of Man Festival of Motorcycling.
"The name of the festival may have changed but the iconic Manx Grand Prix title remains very much intact and we are already looking forward to another great year of racing in 2013."
The Manx Grand Prix is one of three motorcycling events sanctioned to be called a Grand Prix by the world governing body of motorcycle sport.
The government had wanted to re-name the entire event using the TT brand, shorten it and focus on classic bike racing.
Opposition from the island's motor cycling community has led to fewer changes being made for 2013.
The two-week festival will also include the annual Manx Two-Day Trial, the Classic Trial and Jurby Day.