Bemahague school: £34m Isle of Man school opened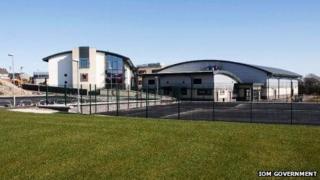 A new £34m school in the Isle of Man has been opened.
Students first started using Bemahague School, in Onchan, in September but now it has been officially unveiled by the island's Education Minister.
Tim Crookall said the new school would offer "generations of young people a superb environment in which to learn".
Headteacher Andy Fox said: "It is a momentous day for the school, the community of north Douglas, Onchan and Laxey and Manx education."
'Real milestone'
He added that the opening ceremony provided a "real milestone occasion for education in the Isle of Man".
Mr Fox added: "It's a fantastic building and will provide a great opportunity for these young people.
"The new school offers superb sports facilities, improved classrooms, labs, drama, music and seminar rooms and the assembly hall can be used as a 450-seater auditorium for shows."
The new school also has a hydrotherapy pool.
The school, which houses 700 students from year seven to nine, replaces the old Park Road school, which closed its doors after 118 years in July.
Members of the public will be able to take a tour of the building with staff and students between 10:00 BST and 13:00 BST on Saturday.