Isle of Man gales force ferry cancellations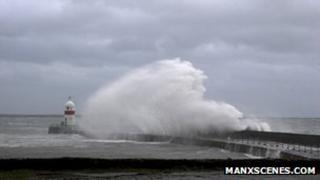 Ferry services between Douglas and Liverpool have been cancelled following a gale warning in the Irish Sea.
Poor weather conditions forecast for Wednesday have resulted in the Manx Steam Packet cancelling its 15:00 BST fast craft service.
The return sailing from Liverpool at 19:15 (BST) has also been cancelled.
A Douglas coastguard spokesperson said: "There is significant risk of flooding likely to cause damage or disruption on the island's east coast."
He added: "There is also standing water and debris on a number of the roads and we ask that people drive with care."
The Isle of Man met office issued the gale warning.
A spokesman warned of "rough seas breaking over on to exposed promenades and roads around the time of high tide early this afternoon and during the early hours of tomorrow [Thursday] morning perhaps, with some slight flooding in the low-lying inner harbour areas as well."