Domestic abuse workshops to end 'taboo and silence'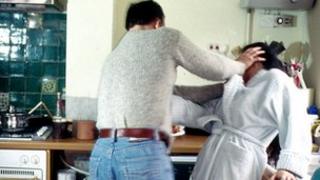 A former sufferer has organised a weekend of workshops to end the "taboo and silence" surrounding the issue of domestic abuse in the Isle of Man.
The project, organised by former sufferer Tamasin Wedgwood, also aims to highlight the problems of alcoholism and mental illness in family life.
The sessions will be held in Ramsey and are supported by UK charity Restored.
Ms Wedgwood said: "I want to break the silence and talk about what happened so others know they are not alone."
She added: "I also want to set up support systems, somewhere people can get help but in order to do these things we need to break the silence and taboos around the subject."
Isle of Man statistics show that during the year 2009/2010 there were 325 incidents of domestic abuse reported to the Isle of Man constabulary - 59% of those involved alcohol, 277 were against women and 48 against men.
During that time the number of incidents rose by 3.8% on the previous year.
Emotional abuse
These are figures which Ms Wedgwood thinks are just the tip of the iceberg.
"If that many cases are reported there must be many more which aren't," she said.
"A lot of abuse is emotional and psychological and you wouldn't go to the police about that, it's easier to go to the police if you have a black eye or a broken arm to show them.
"If someone is systematically horrible to you and repeatedly calls you names, how do you tell the police that? And would you want to?"
Within a few months of marrying her American husband, Ms Wedgwood said the cracks had begun to appear.
"He became moody and depressed and he was often nasty to my children but I always made excuses for him, he was under a lot of pressure because he had himself been abused by his ex-wife."
Ms Wedgwood began to suspect her husband had bipolar disorder, a situation made worse after being prescribed the wrong medication.
"He would be over-the-top happy one day and deeply abusive and aggressive another day, it could change from hour to hour and then from minute to minute.
"If you are a child and your dad is screaming at you one minute and cuddling you the next you become confused and angry."
'Escalating' abuse
Before long the mother-of two remembers becoming emotionally drained and worn out, but the situation continued to escalate.
"I didn't want to hear the abuse any more so I locked myself in the bedroom.
"He was outside the door screaming at me saying I was his enemy, that I was a bitch, I was a psycho, I was a gold digger and I was stealing all his money, that I never cared about him or looked after his children.
"He was just shouting these things, banging the door all the time.
"My children began sleeping in my room, I don't know if they were scared of him or wanting to protect me."
Ms Wedgwood wanted desperately to leave but the situation was not clear cut.
"He was actually ordering us to leave but he had taken all the money so we couldn't go anywhere.
"I needed money for air fares but my husband had taken away my credit and debit cards."
Eventually she found a credit card her husband had forgotten to cancel and when her family on the Isle of Man offered her a place to stay, she booked some flights and never looked back.
"I should have left sooner than I did but these things creep up on you gradually.
"If you haven't lived through this sort of situation you can't imagine how difficult it is to make that decision.
"It's often dangerous to leave so you need a good network of support."
It is this kind of help Ms Wedgwood is hoping to develop on the Isle of Man.
"I have spoken to one woman whose husband raped her and when she told her parents they said if she had been a better wife he wouldn't have had to.
"It horrifies me that people can say such things, often to their nearest and dearest. We have to stop this sort of thinking because it only perpetuates the problem."
Ms Wedgwood has written a book called Keeping My Head - Marrying into Mental Illness.
The domestic abuse workshops take place on 16 and 17 November at the Ramsey Methodist Centre.