Isle of Man horse tram passenger numbers fall by 5%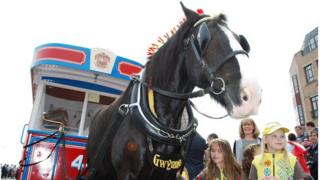 Isle of Man horse tram passenger numbers have fallen for the first time in four years, according to a report by Douglas Borough Council.
According to the report, 53,318 passengers were carried along Douglas promenade during the 2012 season, which is about 5% fewer than in 2011.
Councillor Stephen Pitts said: "Given the appalling weather and economic downturn the figures were anticipated."
The season was extended by one week in 2011 for the Commonwealth Youth Games.
Mr Pitts said that despite the conditions the figures were "roughly on a par with those for 2010 when the service last operated for the traditional 18-week period".
In September 6,820 passengers used the service, which was a 22% increase on the previous year.
"We are very encouraged by September's figures and firmly believe that the service still holds a special place in people's hearts," he added.
In 2011 the horse trams celebrated their 135th anniversary and featured in television programmes in Germany, Japan and the Netherlands as well as starring in Michael Portillo's BBC show Great British Railway Journeys.