More than 60 cases of flooding recorded across the IOM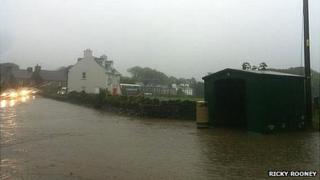 Fire crews dealt with more than 60 cases of localised flooding in the Isle of Man on Thursday after more than an inch of rain fell in a matter of hours.
Fire crews from Douglas, Laxey, Ramsey, Castletown and Port Erin Fire Stations along with the Coastguard and Civil defence helped those affected.
Station Officer John Bellis said: "It was a busy night with everyone pulling together to help out."
The Met Office said that 40mm of rain fell at Ronaldsway in 24-hours.
'Nothing can stop nature'
Mr Bellis added: "In started with a few smaller incidents in Port Erin and escalated all over the island throughout the night."
Mike Kelly, of the Department of Infrastructure, said they received "more that 200 calls for help with flooding".
He said: "We dealt with 60 flooding incidents around the island, working with fire crews and the Civil Defence to pump out properties and distribute sand bags.
"Homes and roads were flooded and assistance was required here, there and everywhere."
During the evening the department together with the Civil Defence, delivered more than 1,700 sand bags to home owners.
He added: "We delivered them in a five hour period and it was the southern and central areas which were the worst affected areas. Roads looked like rivers."
The Colby Glen pub remained open despite some flooding.
Bar tender Nathan Scott said: "It all happened in the space of 20 minutes, it was incredible really.
"I came in at about 5pm and saw it was raining heavily, so I went upstairs and by the time I got back down the water was approaching the door."
He added: "Someone told me to get some sandbags and a few minutes later it was seeping through the door. It just shows you, nothing can stop nature.
"We carried on serving customers throughout the whole thing. Last night we put the heating on full and opened all the windows and now, after some work with the water vacuum it's all looking good."
On Thursday the Department of Infrastructure's Floodwatch service issued a level 2 flood alert for the whole island.