Rain causes 'localised flooding' across Isle of Man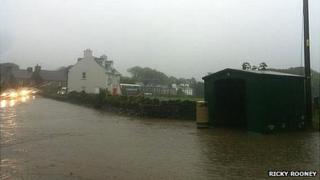 Persistent heavy rain has caused "a lot of standing water and debris on many roads" across the Isle of Man.
A spokesman for Douglas Coastguard said the rain was "causing localised flooding in various parts of the island".
There have been reports of flooding on the road between Peel to Douglas around Crosby. A police spokesman said the road was "open and passable with care".
He added that there was also some flooding in Ballafesson, Port Erin.
Both the police and the coastguard said anyone travelling should "take care on the roads".
Nigel Foster, of the Department of Highways, said there had been "a number of calls to the office about various flooding incidents around the island".
"We have all the resources available to us out and about trying to alleviate the problems," he said.
"The problems are centred around the central valley of the island, particularly in Crosby, so we would ask drivers to slow down and drive carefully."
The Department of Infrastructure's Floodwatch service has issued level 2 flood alerts for the whole island, warning of minor flooding inland and debris and temporary flooding on exposed coastal roads.