Royal Navy: HMS Pursuer visits Isle of Man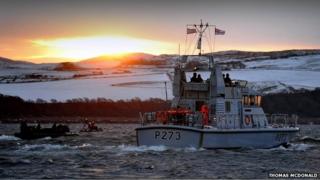 A Royal Navy P2000 patrol vessel, berthed in Peel Harbour, is opening its doors to Manx residents.
HMS Pursuer, the Universities Royal Naval Unit (URNU) ship for Glasgow, arrived in island waters on Friday.
A number of different youth groups, schools, colleges and dignitaries are expected to attend later.
HMS Pursuer's commanding officer, Lt Gary Bickley, said: "We are looking forward to showing schools and youth groups around the ship."
He added: "We hope that people will enjoy the experience of learning more about the Royal Navy and protecting our nation's interests."
The ship was due to be followed by HMS Biter, the URNU for Manchester and Salford, but had to cancel due to technical problems.
There are currently 14 URNUs supporting universities in England, Wales and Scotland.
Each is commanded by a Royal Navy lieutenant who is responsible for 51 undergraduates, who each join while completing their university course.