Bust online poker company relocates to the Isle of Man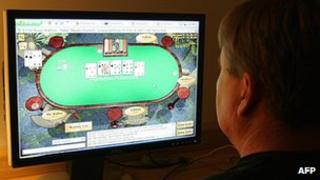 An online poker company which went bust in 2011, leaving players £115m out of pocket, is to relocate from Alderney to the Isle of Man.
Full Tilt Poker has since been taken over by Isle of Man based PokerStars, which has agreed to pay the outstanding player liabilities in full.
The deal will see PokerStars acquire the Full Tilt Poker brand and its software and install new management.
About 50 e-gaming companies are currently licensed in the Isle of Man.
Full Tilt Poker will start trading on 6 November after receiving a licence from the Isle of Man's Gambling Supervision Commission.
Continues to operate
Steve Brennan, chief executive of the Isle of Man Gambling Supervision Commission, said it was "confident that Full Tilt Poker will safeguard the interests of its players and adhere to the strict policies and procedures governing Isle of Man licensed gaming companies".
PokerStars temporarily closed its US operation in 2011 after a number of executives and payment processors admitted making illegal internet gambling charges.
As part of a civil settlement agreement, the company was forced to pay back £341m to the US Department of Justice and reimburse £115m to non-US players of Full Tilt but admitted no wrongdoing in the matter.
PokerStars - which also acquired the assets of Full Tilt in the deal - continues to operate throughout the rest of the world.
Full Tilt Poker was previously regulated by the Alderney Gambling Control Commission, which stripped the online poker site of its operating licence in June.