Isle of Man car vandalism 'to cost £48,000'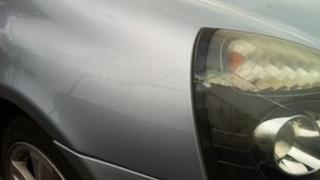 Vandals have caused "extensive damage" to more than 60 cars in the south of the Isle of Man, according to police.
Officers estimate the damage, which happened in Port Erin on Sunday afternoon or evening, will incur insurance costs in excess of £48,000.
It is thought the vandals sprayed corrosive liquid on to a series of parked cars from a moving vehicle.
Sgt Gary Heaton said: "Damage on this scale is unprecedented on the Isle of Man and has caused a lot of distress."
He added: "The police have taken an unusual step of speaking with Crimestoppers which is independent of the police and due to the serious nature of the crime, Crimestoppers will offer a reward of up to £1,000 leading to the arrest and conviction of offenders involved in the incident.
"Due to the unusual nature of this incident I feel that the persons responsible will have talked about what they have done and would urge anyone who may have sold the substances unknowingly to contact the police."