Isle of Man praised by Belle movie team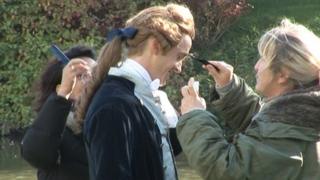 The Isle of Man has met with praise from the production crew of a film being made on the island.
Producer Damian Jones said despite initial reservations he has discovered several "perfect" locations for the movie Belle.
Following a three-week shoot on the Isle of Man, the crew moves to Oxford and London to complete production.
The project is the first since the Manx parliament approved a multi-million pound investment in Pinewood Studios.
The deal involves the Isle of Man investing more than £12m for a 10% stake in the 75-year-old studios.
Shooting for the film, which stars Gugu Mbatha, Tom Wilkinson and Miranda Richardson, began on 24 September and is due to finish around the middle of October.
'Abysmal weather'
Filming has taken place at Billown Mansion gardens in the south of the island and other scenes will be shot in Castletown, the island's ancient capital.
"I think the dungeons at Castle Rushen will make great slums and the atmospheric quay side area will transform into a dock yard," added Mr Jones.
"The island has provided everything we needed - even two days of abysmal weather worked quite well for the scenes we were shooting."
Belle is a romantic drama inspired by a 1779 painting of Dido Elizabeth Belle, a mixed-race girl raised as an aristocrat in the 18th Century.
"It is a wonderful resonant story - sort of Jane Austen-esque with a twist," added Mr Jones.
Government officials anticipate filming for Belle will bring in the region of £1m to the Manx economy.
Producers hope the film will be released in Autumn 2013.