Cooish festival: Manx language and culture celebration gets under way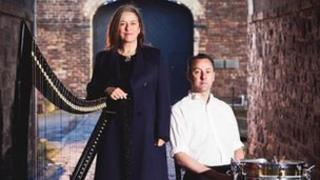 Hundreds of people are taking part in events celebrating Manx language and culture.
The Cooish festival is a week-long series of events including classes, lectures and a music concert supported by the Manx Heritage Foundation (MHF).
Adrian Cain, from the MHF, said the festival was vitally important.
"It's an opportunity to come together, enjoy the culture and celebrate one of the really unique ways of belonging to the Isle of Man," he said.
The festival runs until Saturday 13 October.
One of the highlights is the Cooish Concert, which is being staged at the Centenary Centre in Peel featuring Scottish folk duo Mary Macmaster and Donald Hay.