Kelly Holmes to 'inspire new generation' on Isle of Man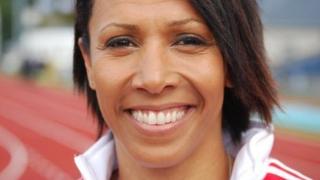 Dame Kelly Holmes has said she hopes she can inspire the next generation of Isle of Man athletes and coaches.
Around 50 athletes and 30 coaches have been selected to receive her support on a mentoring programme, which begins on Saturday.
"Hopefully we can inspire the next generation of champions," she said.
Holmes, who won gold in both the 800m and 1500m at the 2004 Olympic Games in Athens, will teach several sessions over the next 12 months.
She added: "We have identified 55 talented sports people on the island between 13 and 55 from all sorts of sporting backgrounds, we are here to deliver workshops and teach people what it takes to be the best they can be in sport.
"I think what is crucial for the island is to develop an identity for high achieving and the Commonwealth Games in Glasgow in 2014 is a very important focus for the athletes."
The sports programme will incorporate practical workshops alongside coaching on nutrition, technique and psychology.
Isle of Man sports development officer Paul Bridson said: "It is important that we give our best young athletes and Commonwealth team members the support that they need to flourish in their chosen sport, and this programme is a fantastic addition to what we already have in place."