Isle of Man overseas aid demonstration held in Douglas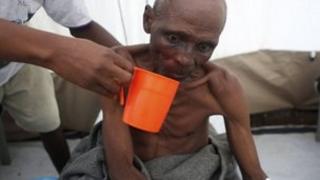 A demonstration to lobby the Isle of Man government into increasing its overseas aid commitment to 0.1% is to be held outside Tynwald.
The government currently gives 0.07% of its gross national income (£2.4m) in aid, but campaigners want that to rise.
Kristina Crawford of the Point 1 group said: "As a nation we can do more to help tackle extreme global poverty."
The demonstration will be held outside the Legislative buildings in Douglas.
The Point 1 campaign was launched in August and so far campaigners have gathered about 1,500 signatures.
Ms Crawford said: "We are staging a tea party to highlight what is a very important cause."
The idea was inspired by a Martin Luther King speech made in 1967.
Ms Crawford continued: "He said before you finish eating breakfast in the morning, you've depended on more than half the world.
"If that was true in 1967 then it has to be even more so in 2012."
In 2004, Tynwald committed to spending 0.7 per cent of gross national income on overseas aid but currently gives approximately 0.07% gross national income, less than £28 per person.
In 2011, Guernsey gave £2.62m, which is 0.14%.