Kevin Woodford election fraud trial: Vote staff taken for 'officials'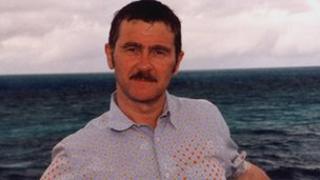 A witness has told an election fraud trial he thought canvassers working on behalf of a celebrity chef were Manx government officials.
Mr Elma Marquez was giving evidence at the trial of four people accused of manipulating the island's proxy voting system to get Kevin Woodford elected.
Mr Marquez said he was asked to sign a blank white form when canvassers came to his flat in Douglas.
He said the canvassers claimed they "were counting voters".
Mr Marquez said: "I thought it was a census before the election like in the Philippines where they count the voters before an election."
"All I am thinking is that they are from the government."
The form was actually a proxy application which allowed someone to vote on his behalf.
Unsuccessful candidate
Charles "Buster" Lewin, 57, of Crosby, has admitted conspiracy to affect legal purposes by improper means, conspiracy to steal and conspiracy to forge a document.
Kerry Rothwell, 25, and Catherine Liggins, 27, both from Onchan, deny the same three charges.
Gail Corrin, 40, from Douglas, and Geoffrey Callister, 51, from Port Erin, deny conspiracy to affect legal purposes by improper means.
Mr Woodford, who previously told the trial he was not aware of any fraud, unsuccessfully stood in the Douglas East by-election in 2010 to become a Member of the House of Keys.
Mr Marquez claimed he would not have signed the form had he been aware it was a proxy application and added the canvassers did not explain what a proxy vote is.
Iain Goldrein QC, defending Ms Corrin, put it to Mr Marquez if it was possible he may not have heard what the canvassers were saying because he was in a hurry for them to go.
Mr Marquez said: "I thought they were from the government and when they asked me to do something I just scribbled it."
'Proxy not mentioned'
The trial also heard from Douglas resident Teresita Garcing who also signed a proxy form after a visit from Mr Woodford's campaign team.
Mrs Garcing said in April 2010, before the Douglas East by-election, she was at her friend's house in Pevril Street, Douglas when two canvassers came to the door.
"They were saying they were having a house-to-house registration for the electoral role and as we were not yet registered, I signed the form," said Mrs Garcing.
"They did not mention the word 'proxy', only 'registration', because we did not intend to apply for a proxy vote."
Iain Goldrein QC, defending Ms Corrin, asked Mrs Garcing if it was possible she could have forgotten about a conversation to do with proxy voting.
She replied: "Maybe I haven't remembered everything, but they only stayed a while and they only told us about registration, nothing else."
The trial continues.