Isle of Man industrial estate fire 'difficult to trace'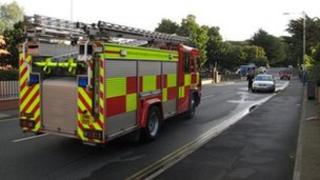 The cause of a fire at a garage on an industrial estate in the Isle of Man may not be found, according to a senior firefighter.
Emergency services were called to the blaze on the River Valley industrial estate at about 02:30 BST on Tuesday.
Station Officer John Kelly said: "Due to damage from the extreme heat it will be difficult to find the cause."
The fire started in a double garage near Pulrose and involved a potentially explosive oxy-acetylene cylinder.
No one was hurt in the fire, police said.
Mr Kelly said the incident was "extremely difficult to deal with in regards to the potential risks within the unit".
"The acetylene cutting equipment has the potential to go off like a bomb," Mr Kelly added.
Three fire crews worked alongside members of the coastguard and Civil Defence to battle the fire.
Hills Meadow, Riverside Industrial Estate and Middle River Industrial Estate were all closed to public during the incident but have now reopened.