Isle of Man smokers sign up to quit with Stoptober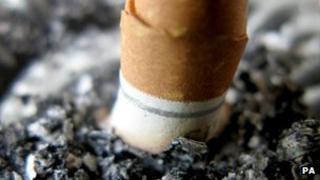 Record numbers of Isle of Man smokers have signed up to quit for 28 days during a national campaign, the Department of Health says.
Smokers are being encouraged to give up for Stoptober, a UK-wide "mass-quit" initiative.
Tobacco Strategy co-ordinator Anita Imberger, said: "We've seen record interest across the island."
Research shows people who stop for 28 days are five times more likely to stay smoke-free.
The Isle of Man's Department of Health estimates that around one in five people on the island smoke regularly.
Smoking was banned in the island's pubs and clubs, in 2008.
'Variety of options'
Ms Imberger said there are a "variety of options" for those wanting to quit.
The island's QUIT4YOU service holds drop-in sessions for those interesting in learning more.
According to Department of Health, statistics the the largest group of smokers were males between 25 -35.
Ms Imberger added: "The service has received record interest from this campaign. The feedback is people who were already considering quitting like the mass quit proposition."
Smokers who join Stoptober are given free support, with an information pack issued by the QUIT4YOU service.
There is also a mobile phone app that can monitor quitters' progress and offer of daily motivational texts to keep them on track.
There is also a Stoptober Facebook page where people can exchange ideas and get additional tips and advice.
One in two long-term smokers will die from a smoking-related disease, statistics show.