Calf of Man islet rat-cull project calls for volunteers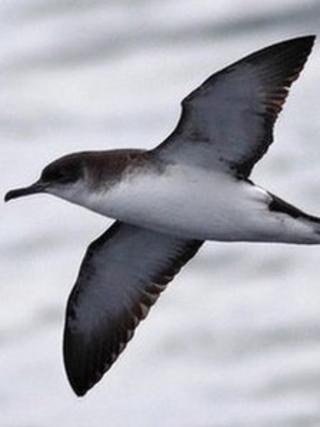 An appeal for volunteers has been launched in the Isle of Man in an effort to eradicate the rat population on a small bird sanctuary in the Irish Sea.
Although wading through damp heather and laying rat traps may not be everybody's idea of a fun weekend, many have already come forward.
The shifts, on the isolated islet of the Calf of Man, run for about a week at a time.
Applicants are encouraged to have a set of wet-weather clothing, a good level of fitness and, above all, a flexible schedule.
Kate Hawkins from Manx National Heritage (MNH), the organisation behind the project, said there was always the chance of getting marooned, especially in the winter.
"We have been stockpiling food, equipment and fuel since March so people won't go hungry or cold but you may find your schedule changes at the last minute, there is nothing you can do about the weather," she said.
'Catastrophic' decline
Located off the southern tip of the Isle of Man in the Irish Sea, the Calf of Man has been a bird observatory since 1959.
The MNH rat-culling scheme is being supported by the RSPB and will cost in the region of £50,000.
It is hoped it will help establish a safe breeding ground for Manx Shearwater birds which have seen "catastrophic decline" in number since the arrival of rats.
By the beginning of the 19th Century, the colony was all but wiped out as a result of rats preying on chicks, eggs and adult birds.
Rodent control has taken place since 1979 but there is a persistent residual population of rats.
In addition to conserving the Manx Shearwater, the project is anticipated to provide a more favourable environment for burrow-nesting birds such as storm petrels and puffins, potentially leading to colonisation and breeding.
Ms Hawkins said: "We think rats must be able to swim distances of up to about a kilometre (0.6 mile).
"In periods of slack water, they may be getting across from the Sound on the Isle of Man or it's feasible they may have been stowaways on fishing vessels."
The culling scheme involves laying an island-wide grid of metre-length plastic drainage pipes which are pegged securely to the ground.
The pipes have flaps where the rats can enter and eat the poisonous bait, but the process takes time.
"Rats have a tendency towards something called Neophobia, which means they are frightened of anything new appearing in their territory," continued Ms Hawkins.
'Quite tranquil'
"That is why we have to give them a couple of weeks to get used to a benign grid before we put the bait inside."
A special kind of "block bait" is used which prevents the poison entering the environment and harming other forms of wildlife.
Once the grid has been established and the bait laid, it has to monitored regularly and about about six people have been involved at any one time- a combination of volunteers, wardens and environmental officials.
In about two years, it is hoped the Calf of Man will be able to declare itself a rat-free zone but that does not necessarily mean an end to the work.
A different kind of bait made form wax, a particular favourite of the brown rat, will then be put down to indicate if and when the rodents return.
Places for volunteers are still available for November and December and any enquiries should be directed towards the Manx Wildlife Trust.
"We are hoping the idea will appeal to people who just want to get away for a few days- the Calf is quite a tranquil place to be," added Ms Hawkins.
"Although it is a small island, people can still get lost so everyone carries a walkie talkie.
"The accommodation is basic (bunk beds) but it is warm and comfortable with wood-burning stoves.
"There's no traffic and mobile phone signals are patchy so you just have to get on with it and enjoy the experience and the beautiful scenery."
The Calf Manx Shearwater Recovery Project is jointly managed by Manx National Heritage, the UK Food and Environment Research Agency, the Manx Wildlife Trust and the RSPB.