Isle of Man beach clean-up held for Big Tidy Up campaign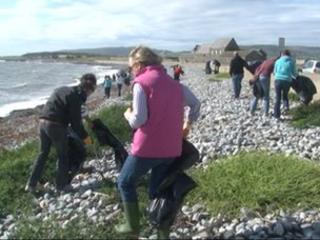 Hundreds of people in the Isle of Man will take part in an all-island beach clean this weekend, as part of a national campaign.
The annual event run by Douglas Borough Council, is part of the Big Tidy Up campaign, which is being held around the British Isles.
Council Leader David Christian said: "It is a real opportunity to demonstrate a sense of civic pride."
Over the last two years around 3.7 tonnes of litter has been collected.
Local authorities, volunteer groups, charitable organisations, businesses and schools are taking part.
Clean-up kits will be provided and as much of the collected litter as possible will be recycled.
Local charity Beach Buddies will also be holding two beach cleans at the Point of Ayre.
Mr Dale, who runs Beach Buddies, said the stretch of coast is "one of the worst on the island for litter".
He said: "We are very hopeful we can make a big impact over the two days."
The first if two sessions is under way, with the second starting at 11:00 BST on Sunday.