Kevin Woodford by-election fraud trial: Woman felt 'violated'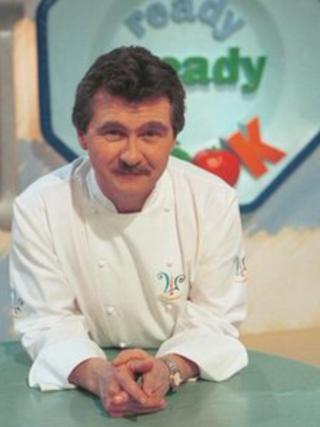 A woman whose signature was allegedly forged as part of attempts to get a celebrity chef elected as a politician told a court she felt "violated".
Gillian Hughes was giving evidence in the trial of four people accused of manipulating votes in favour of Kevin Woodford in an Isle of Man by-election.
The court heard an application for a proxy vote was fraudulently made so someone could vote for Mr Woodford on behalf of Mrs Hughes.
The four deny the charges against them.
After a visit from a member of Mr Woodford's campaign team, Mrs Hughes received a letter from the government about her proxy vote.
She phoned the number on the letter and was told her application for the vote had been granted.
However, she had not applied for one.
She told the court: "I felt quite violated to be honest with you that somebody could do that kind of thing. So I went to the police."
'Very polite'
Mr Woodford previously told the trial he was not aware of any fraud.
Known for appearances on television cooking shows, he unsuccessfully stood in the Douglas East by-election in 2010 to become a Member of the House of Keys.
His campaign was led by Charles "Buster" Lewin, 57, of Crosby, who has already admitted conspiracy to effect legal purposes by improper means, conspiracy to steal and conspiracy to forge a document.
Kerry Rothwell, 25, and Catherine Liggins, 26, both from Onchan, are on trial accused of the same three charges.
Gail Corrin, 40, from Douglas, and Geoffrey Callister, 51, from Port Erin, are on trial accused of conspiracy to effect legal purposes by improper means.
Proxy voting is a system whereby electors can appoint a person to vote for them if they are likely to be off the Isle of Man on polling day.
Giving evidence, Mrs Hughes and her husband David said the chef came to their house to talk about his campaign, about a week after Mrs Hughes received the government letter.
Mr Hughes told the court: "I noticed that Mr Woodford and an associate were walking up the hill and I said, joking to Gilly, 'here's your mate'.
"She replied 'I don't want to see him, get rid of him'."
Mr Hughes said he explained to Mr Woodford that the family had cancelled a previously-made appointment to meet him.
"He was very polite," said Mr Hughes.
"He apologised, said there must have been some sort of mix-up."
'Suspicious' call
Later that evening, Mrs Hughes said the family received a call from someone claiming to be from the Treasury department, calling themselves Kerry Rothwell.
She said the caller wanted to discuss her proxy vote, but Mrs Hughes was suspicious and put the phone down.
The trial heard evidence from further witnesses who had proxy applications completed in their names. It is accepted by the prosecution that some of these were legitimate.
Susan and Eric Hampson, giving evidence, said they both agreed to vote for Mr Woodford by proxy as they would be in Turkey on polling day.
But Michael Callister, a self-employed tiler, said in his witness statement: "I didn't know I had given away my vote. I don't even like Kevin Woodford."
The trial at Douglas Court House is expected to last several weeks.