Around 60 car tyres dumped near Isle of Man beauty spot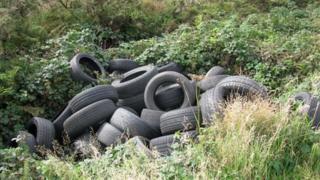 Around 60 car tyres have been dumped near a beauty spot in the Isle of Man, police confirm.
The tyres were discovered in two ditches at the side of Conrhenny Road which runs adjacent to Conrhenny Plantation, north of Douglas.
Constable Ben Horan said: "The tyres were dumped in two piles either side of the road and that a large vehicle must have been involved."
Anyone with information is asked to contact police headquarters in Douglas.
Steve Collister, from the island's Department of Environment, Food & Agriculture, said: "Incidents of fly-tipping on this scale are very unusual on the Isle of Man."