Kevin Woodford election canvassers 'acted without question'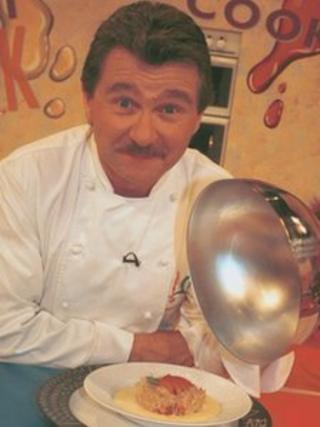 A trial has heard that canvassers who would "act without question" were hired to fraudulently get a celebrity chef elected as an Isle of Man politician.
Prosecutors allege Kerry Rothwell, Catherine Liggins, Gail Corrin, and Geoffrey Callister used "trickery" to manipulate the proxy voting system.
They were working for a campaign to get Kevin Woodford elected as a Member of the House of Keys in 2010.
They deny conspiracy to effect legal purposes by improper means.
Ms Rothwell, 25, and Ms Liggins, 26, both from Onchan, also deny conspiracy to steal and conspiracy to forge a document.
Proxy voting is a system whereby people on the Isle of Man can cast a vote if they are likely to be off the island on polling day.
The elector appoints a "proxy" to vote on their behalf.
The defendants are alleged to have targeted elderly residents as well as deaf and blind people, misleading them into appointing a proxy.
The campaign was led by Charles "Buster" Lewin, 57, of Crosby, who has already admitted all three charges.
Giving evidence at Douglas Court House, Anne Marie Hanna, the director of Ability Plus employment agency, which hired canvassers for Mr Woodford's campaign, said Lewin's selection criteria for canvassers was people who would "do what they were told".
'Follow instructions'
She said: "What he didn't need was people with educational qualifications.
"Just cheerful people who could meet and greet people, follow instructions and do what they were told.
"I felt some of them would act without question."
Mr Woodford was standing in the Douglas East by-election in 2010.
He came third in the vote to become a Member of the House of Keys.
Isle of Man resident Mr Woodford, best known for appearances on TV cooking shows Ready Steady Cook and Can't Cook, Won't Cook, previously told the trial he was not aware of any election fraud.
Maria Williams, who worked in the office for the election campaign, described Lewin as rude, crude, aggressive, intimidating and pushy.
Concerns about the legality of the campaign were raised when a hoax caller, claiming to be a police officer, phoned the campaign headquarters.
In a statement read in court, office manager Sarah Clague said: "A male voice said 'I'm phoning on behalf of my mother-in-law Mrs Leyton. She signed a proxy. What would you do after that?'.
'Highly illegal'
"I replied: 'Somebody would go down to vote on her behalf'.
"He replied, 'I'm Sgt Ged Power. What you are doing is highly illegal. A proxy vote should only be used if someone is ill or off-island. I'm coming down to arrest you'."
Ms Clague raised her concerns with Ability Plus recruitment consultant Andrea Walsh, who then raised the concerns at a meeting with Lewin.
Giving evidence, Mrs Walsh said Mr Woodford was also present at the meeting, during which Lewin threatened to terminate the contract Ability Plus had with the campaign.
The trial of Ms Rothwell and Ms Liggins, Ms Corrin, 40, from Douglas, and Mr Callister, 51, from Port Erin, is expected to last several weeks.