Isle of Man flood warning issued by Met Office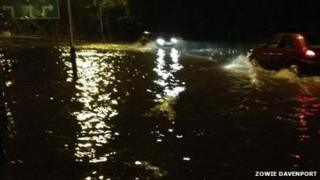 The Manx Met Office has issued a flood warning as heavy and persistent rain is forecast in the Isle of Man.
The warning comes just weeks after it was confirmed that the island has recorded its wettest summer since records began in 1947.
Forecaster Andy Roberts said: "Between 20-40mm of rain are likely by the end of the day, causing some localised flooding."
Further heavy rainfall is expected overnight and during Tuesday.
Strong winds are also forecast overnight and into Tuesday morning.
'Autumnal equinox'
Mr Roberts said the weather is to be expected around the autumnal equinox.
He said: "Flooding issues are often exacerbated at this time of year, especially when heavy rain is accompanied by strong winds, as drains become blocked with fallen leaves and other debris."
The Met Office said significantly more rain (between 60-80 mm) could fall over the higher ground.
Isle of Man police are advising motorists to keep an eye on their social media pages for up-to-date travel information.
Met Office amber warnings - advising people to be prepared for severe weather - are in place for London, south-east, south-west, north-east and north-west England, Northern Ireland, Wales, central Scotland, south-west Scotland, Lothian and Borders, Tayside and Fife, the West Midlands and Yorkshire and the Humber.
Yellow warnings - indicating that people should be aware - are in place for much of the rest of the UK.