Isle of Man lifeboat rescues yacht stranded at Cornaa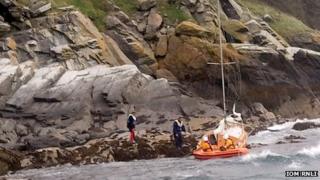 A yacht crashed on to rocks near the east coast of the Isle of Man after its engine failed in strong winds.
The Isle of Man lifeboat was called out to rescue the 20ft craft from rocks half a mile north of Cornaa beach, at about 14:00 BST on Sunday.
The yacht, which had two people on board, also lost its rudder.
During the rescue an inflatable dinghy deployed by the lifeboat crew was overturned by a wave, sending all on board into the yacht.
An RNLI spokesman said although the crew of the yacht were severely shocked, they were unhurt.
He added: "At the scene it was observed that the incapacitated yacht was not only stranded hard on the rocks but had sustained a hole in the hull, making it unfeasible to take the vessel into tow.
"The lifeboat's inflatable dinghy was deployed to transfer the crew members to the lifeboat."
The yacht had been travelling north from Port St Mary when it got into trouble.