Manx swimmers complete English Channel crossing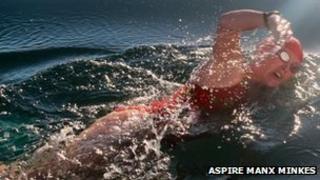 Six swimmers from the Isle of Man have swum the English Channel to raise more than £15,000 for charity.
Swimming in one-hour legs, the women completed their 22-mile crossing in 12 hours 47 minutes.
Christine Howell, 29, swam the first leg from Dover at about 00:45 BST on Sunday and also completed the final leg as the team arrived at Cap Gris-Nez in France.
"I was terrified setting off but it was an incredible experience," she said.
The team travelled to Dover on Friday where they had to wait until the tidal and weather patterns were suitable for the crossing.
'Everest of swimming'
Team manager Jill Bunyan described the challenge as the "Everest of swimming."
She said: "It was pitch black when we set off but the conditions were close to perfect. It wasn't too choppy and we were very excited to get under way.
"We had our order and we stuck to it. One girl swam as fast as she could for an hour whilst the other rested and prepared.
"It was an extraordinary feeling to reach Cap Gris-Nez and the champagne corks were popping. We have been training for months and all the hard work was definitely worth it. We even had a few dolphins swimming with us along the way.
"I am very proud of our achievement."
The team started their training in December and have raised more than £15,000 for people with spinal cord injuries.
The team included Christine Howell, 29, Heather Mattocks, 31, Silla Parnell, 40, Jill Bunyan, 46, Johanna Barkwith, 38 and Beth Swaine, 30 with Brandon Ellis, 47, and Mark Gorry, 39, in reserve.