Manx beach clean collects record amount of rubbish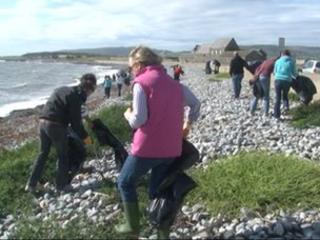 A record amount of rubbish has been collected by beach clean volunteers in the Isle of Man, according to a local beach cleaning organisation.
More than 60 bags of litter were cleared from Gansey Beach in one hour by dozens of helpers on Thursday.
The event was part of an ongoing campaign by local group, Beach Buddies.
Organiser Bill Dale said: "We have got a huge problem on the Isle of Man with beach litter so I am really made up to have had such a successful day."
Mr Dale, who set up the group six years ago added: "I remember when I was a child playing here and there wasn't a scrap of rubbish on the beach. It is so important to keep our beaches clean.
"When Beach Buddies leaves an area we leave it immaculate, we clean it up totally but sadly when you come back two weeks later you are back to square one."
In recent months leading wildlife experts have called for people to be more careful with their litter after a basking shark was filmed with plastic around its nose and a grey seal was photographed with plastic around its throat near Kitterland.
Another major beach clean is being organised on the Isle of Man between 14 and 17 September as part of a British Isles-wide campaign organised by Beachwatch.