Isle of Man team take on the "Everest of swimming"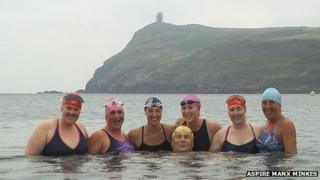 A team of six swimmers from the Isle of Man will attempt to swim the English Channel this weekend, a challenge they likened to climbing Mount Everest.
The intrepid six are hoping to complete the 22-mile challenge in about 11 hours but their time will depend on tide and weather patterns.
Team Manager Jill Bunyan described the challenge as the "Everest of swimming."
The team started training in December and has raised more than £14,500 for people with spinal cord injuries.
The Manx Minkes will travel to Dover on Friday but the idea to take on the challenge came in December.
Dr Bunyan, 46, said: "We saw an advert just before Christmas for English Channel relay teams and thought how hard can that be. For a team of six it is roughly two, one hours swims to get across."
"I jokingly put it on Facebook and the next thing I knew we had a team, booked a boat and we were going."
The shortest distance the crossing can be is 22 miles in a straight line, however the time it will take and exactly where they will arrive in France will depend on weather and the tide.
Dr Bunyan from Colby, continued: "Channel swimming is something all open water swimmers dream about doing and we are all incredibly excited.
"When we start the challenge will depend on the right weather window.
She continued: "We swim for an hour at a time and then continue in the same order until we reach France and we hope to complete the crossing in 11 hours.
"We are all regular swimmers but we started increasing training in January with three or four three-hour pool sessions each week. We also faced the challenge of getting used to sea swimming and the freezing temperature.
"We used our wet suits until March and to start with getting used to the sea temperature was painful. We could handle around 15 minutes at first but we can now stay in for a couple of hours.
"We've also done a lot of circuit training and gym work and completed a number of training events including the Great North Swim.
"We are very lucky to be able to train in the Isle of Man, it is a wonderful place. There is so much to see in the sea here, amazing fish and plants and we have even been training with seals.
"If we manage to complete the swim the champagne corks will definitely be popping."
The team includes Christine Howell, 29, Heather Mattocks, 31, Silla Parnell, 40, Jill Bunyan, 46, Johanna Barkwith, 38 and Beth Swaine, 30 with Brandon Ellis, 47, and Mark Gorry, 39, in reserve.