Mumps cases see 'dramatic rise' in Isle of Man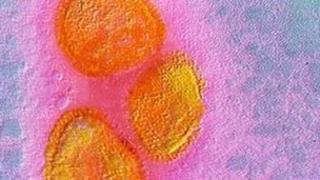 The Isle of Man has seen a "dramatic rise" in mumps cases in 2012, according to the island's Director of Public Health.
Dr Parameswaran Kishore said the Health Department had handled 135 cases (76 male, 59 female) of mumps already this year, compared with just seven in 2011.
He said: "It is unusually high this year and is mainly affecting young adults between 18-35."
The mumps are caused by a virus, spread through saliva and other body fluids.
Symptoms include uncomfortable swollen glands under and around the chin, headaches, loss of appetite and fever.
Dr Kishore said: "People over the age of 40 are likely to have had mumps infection and hence are immune; younger children are offered the MMR (measles, mumps and rubella) vaccine which protects them against all three".
The MMR vaccine was introduced in the Isle of Man in 1988.
Dr Kishore continued: "There is a cohort of young people who are too young to have had the natural infection but too old to have received the vaccine. We are seeing most cases in this age group.
"A very small proportion of the patients have told us that they have received two doses of the MMR vaccine and still have developed the symptoms of mumps. This is likely to be due to gradual reduction in immunity, which is a feature seen in many other infections."
The Department of Health says that mumps is an acute viral illness which, although unpleasant, is not life-threatening.
Dr Kishore advises that anyone under the age of 40 who has not had two doses of MMR vaccine should contact their doctor to receive another dose.
He also advised that anyone with mumps should stay off work or school for at least five days, and that there is no risk to pregnant women.