Queenie scallop fisheries closure in Isle of Man praised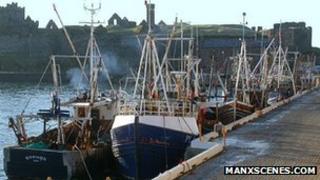 A request to close off the queenie scallop fisheries in Manx territorial waters has been "applauded" by Manx government officials.
The call came from local fishermen concerned that this season's catch has already exceeded recommended levels.
The closure, from 4 September, brings the Isle of Man's lucrative queenie fishing season to a premature end.
Fisheries Minister Phil Gawne said: "I applaud our fishermen for taking such a responsible approach."
'Short-term sacrifice'
He added: "Fishermen are businessmen, who need to ensure the long-term profitability of their businesses.
"I am sure that for many, requesting a closure of the fishery in order to safeguard future years' catches is a major short-term sacrifice."
A spokesman from the fisheries department said, while there was no official date to mark the end of the queenie season, it normally finished between September and October when, traditionally, the industry switches to scallop fishing.
Potentially, the island's queenie fishing grounds are normally open throughout the year excluding April and May.