Isle of Man summer wettest since records began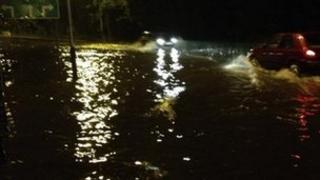 The Isle of Man has recorded the heaviest summer rainfall since records began in 1947, according to the island's Met Office.
Official Met Office figures show that 381.3mm of rain fell between 1 June and 31 August, which is almost 200mm higher than average.
Met Officer Colin Gartshore said it has been an "extraordinary summer."
The previous wettest summer came in 1985 when 330mm of rain fell in the three-month period.
The average Manx summer rainfall between 1 June and 31 August is 185mm. The record was passed some 10 days before the end of August.
Mr Gartshore said this summer had been so wet because a jet stream - a fast moving band of air high in the atmosphere - from America, which should be sitting across Scotland and the north of England, was much further south this year.
"This summer, the position of the jet stream has meant frequent low pressure areas and frontal systems moving across Britain and Ireland, with unprecedented amounts of rainfall.
"The crux of the matter is what causes the jet stream to be in this position, for this length of time.
"It could just be the natural variability of something which in itself is rather prone to large fluctuations in position and strength or there could be another underlying factor, like sunspot activity.
"The reality is that we don't yet have a complete understanding of the subject, there's a lot of researchers across the world working on these kind of topics."
The heavy rain has led to a number of the Isle of Man's roads being closed due to flooding.