Lottery boost for Manx basking shark 'passport' tagging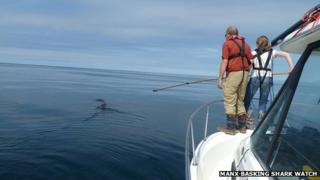 The Manx Lottery Trust has awarded £20,000 to help Isle of Man scientists discover more about basking sharks.
The funding will go towards a "shark passport" tagging programme, which could ultimately lead to increased levels of international protection.
It uses satellite technology to reveal more details about shark behaviour than was previously possible.
Jackie Hall, from Manx Basking Shark Watch (MBSW), said the money provided half of what was needed for the scheme.
The new technology, which will be used for the first time in 2013, is called Smart Position or Temperature (SPOT) tagging.
The tags are designed to stay on the sharks for up to five years, which will provide scientists with a fuller picture of shark behaviour.
"Giving sharks a passport could ultimately help us push for increased levels of protection," added Mrs Hall.
"One aim of MBSW is to provide governments with scientific information about basking sharks to enable them to make informed scientific decisions about how best to protect basking sharks."
Atlantic journey
The new Spot programme is a progression from the current shark tagging scheme which began in 2007.
Since then, a total of 21 sharks have been tagged off the Manx coast.
"Before this no one knew if the basking sharks that visited Manx waters in summer were the same sharks coming back year after year or just sharks that were passing through on global travels - thanks to this MBSW research a picture is starting to emerge," Mrs Hall added.
"Of the 18 tags that we have analysed so far, 17 of the sharks had over-wintered very locally in the Irish and Celtic Seas and one crossed the Atlantic in just 82 days."