Mannifest preparations under way at Glen Lough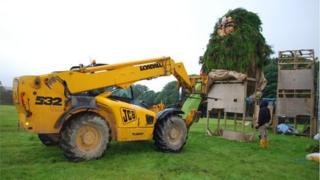 Two island-based artists have erected a 30ft sculpture of the Manx sea god Manannan at the Glen Lough camp site in the Isle of Man.
The imposing sculpture was first commissioned as the centrepiece for the Mannifest music festival in 2010, and has received a revamp for this year.
It was designed and built by Manx artist Stephanie Quayle-Jackson and her husband Darren.
The sculpture will watch over the festival which will be held in August.
Mrs Quayle-Jackson said the majority of the sculpture was made using materials from Manx gardens, including bracken, conifers and evergreens, while the face is carved from a tree trunk found on the festival site.
She said: "We like to think that he looks like he could get up and walk back into nature at any point.
"We must thank all the gardeners from around the island who have provided us with the materials to create our work."
The sculpture has also received a new cloak this year.
"It was originally made from reclaimed sacks but they only lasted for 12 months, so this year we have made it from canvas."
A Loaghtan sheep sculpture created by the couple will also provide a backdrop for this year's festival.
Organiser Heidi Danaher said: "The sculpture makes a fantastic centrepiece and seeing it go up is very exciting."
The festival, now in its fourth year, will be held from 3-5 August.
Mrs Danaher said the ethos behind the festival was to bring together the best Manx bands and DJs, along with some of the finest talent from the UK.
This year headline acts will include Reef, Will & The People and Bad Manners.
Mrs Danaher said: "We are a very family-friendly festival and this year we are taking the security of both the festival field and camping area very seriously."