Northern Lights photograph described as 'very special'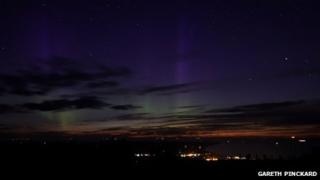 A photograph of the Northern Lights above Ramsey has been described as "very special" by the chairman of the Isle of Man Astronomical Society.
Howard Parkin said: "It's a spectacular image. To capture it so well during mid-summer is very special."
The Northern Lights or Aurora Borealis was captured on camera by astronomer Gareth Pinckard on Tuesday night.
They can be seen from the Isle of Man at anytime of the year but mainly in March and April.
Colourful light show
The colourful light show occurs because of storms that take place on the surface of the sun.
These storms send out radiation, called the solar wind, that lights up the sky when it collides with Earth's magnetic field at the poles.
Mr Parkin continued: "They happen when the incoming solar radiation hits the earth's upper atmosphere and excites atoms to a new energy state. This is when they emit colours which is energy in the form of light.
"It is one of the most fantastic features of the night sky and the colours are incredible.
"They are of course best seen from the northern latitudes like Norway, Alaska, Iceland and maybe northern Scotland but from a good northerly horizon they can sometimes be seen from the Isle of Man.
"They look spectacular so forget the technical reasons and enjoy them."