Robin Gibb donations boost Isle of Man charity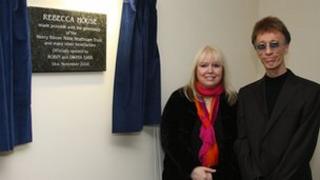 An appeal by the family of Bee Gees singer Robin Gibb has brought in a surge of donations to a Manx charity.
Rebecca House children's hospice announced on 11 June that more than £4,000 had been raised so far.
Well-wishers for Gibb were asked by family members to donate instead of sending funeral flowers.
The founder member of the Bee Gees, who died aged 62 after a lengthy battle with cancer, was born at in a maternity home in Douglas in 1949.
The money will go towards providing care for children with life-threatening conditions.
The facility was officially opened by Gibb and his wife, Dwina, in 2008.